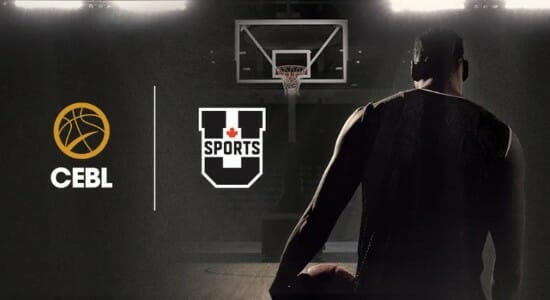 How Canadian University Basketball Players Are Pursuing Their Pro Dreams With Help From The CEBL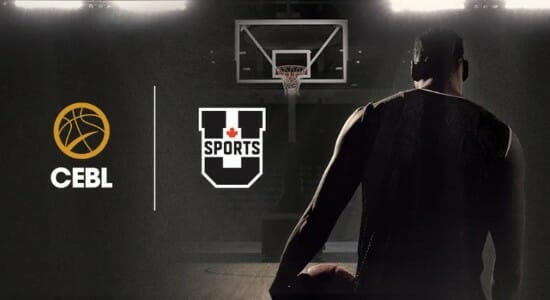 Imagine starting a professional basketball league, having a great inaugural season success, and be forced to pivot next season because of the pandemic. That's what happened to the Canadian Elite Basketball League (CEBL), a promising 7-team all-Canadian basketball league that gives Canadian talent the opportunity to play professionally, at home. Many of their players are former or current USports (Canadian equivalent to NCAA) men's basketball players. Unlike the pros, college and university level athletes do not have the same resources available to help them stay game-ready while quarantined. I spoke with three of USports top basketball players Ozzy Omar, Xavier Ochu and Omar Shiddo and CEBL commissioner Mike Morreale to talk about how the pandemic has affected these players, how they have been continuing their professional basketball pursuits during this time, and what Mike and the CEBL are doing to support Canada's top USports players. All on the eve of their CEBL Summer Series which tips off tomorrow!
First I chatted with Commissioner Mike Morreale to get his thoughts on the partnership between U Sports and the CEBL. Then, I sat down with the players, taking a deep dive into pre-pandemic vs. pandemic life, BLM and their thoughts on the CEBL-U Sports connection.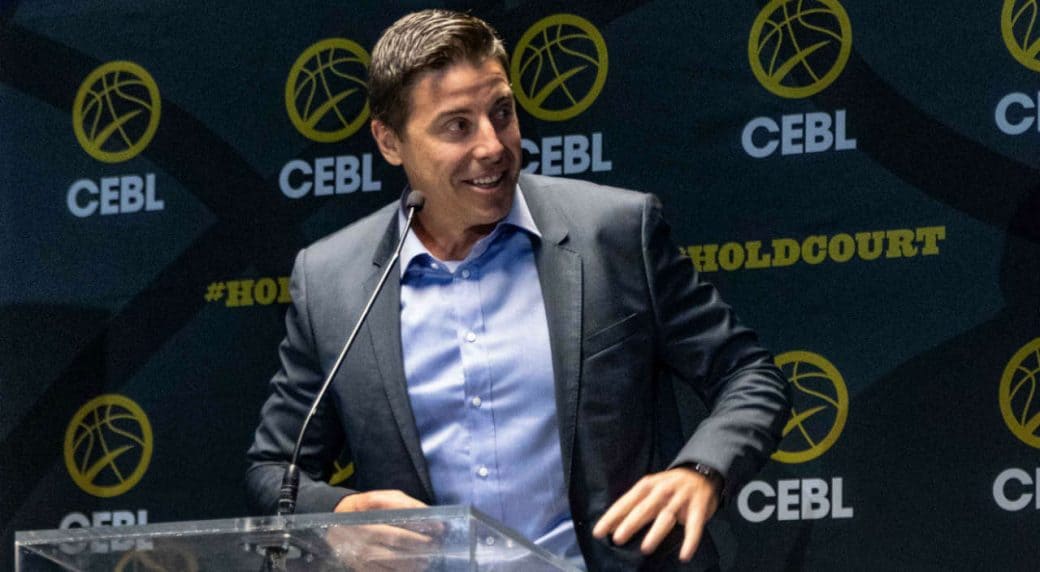 Explain the CEBL's partnership with USports.
This year each of our 7 professional teams are required to have 3 USports players, and then we mandate that each team must carry at least one developmental player or current year graduate, meaning either a player that's just graduating or a player that has eligibility and they can still go back to school. We pay them in a form of an educational grant, so it doesn't affect their eligibility.

A lot of great Canadian university players do not seriously turning their passion into a career because they have to pick up and literally move somewhere else to do it. It's unfortunately just not set up or hasn't been set up in a way that people can stay at home. So that's really exactly why the CEBL was created.

That's really the whole reason behind it, it was to not only to showcase our pro players that play all over the world that don't get an opportunity to play at home, but also to develop the next level player. If this was something that the NCAA adopted, it would be like newsworthy all over the world because now we are allowing players to realize their dreams, but not get penalize for it and that's important.

I think for us it is a way to, to do exactly what our intention was and that was to help promote and develop the game. And indirectly, we are promoting youth sports and remaining in youth sports because you can have a pathway from a youth sports programs to professional basketball.

A lot of people think they have to go the US route to do it, but they don't anymore. And they can have a career at USports that turns into a career in the CEBL that turns into a career in the top European leagues all over the world. It's starting to pay off.

You look at guys like Brody Clark who played for us last year, who went to school back to school in Alberta. And then now is not only playing with us for our summer series, but has already got a contract to play after the summer series. That's a real life example of how it works.

Hopefully over time people will look at the model we've created and make a similar female model. There's just as much talent, if not more, to be quite honest with you, on the female side than there is on the male side that needs to be showcased.
What can USports athletes like Xavier Ochu who was drafted into the CEBL this year expect from their experience in your league?
Our partnership with USports is incredibly important. Especially during this year and into next year, because of what's going on around us and the cancellation of most of the youth sports programs. So it's put new sport players that either have a year of eligibility remaining or they're in their final year, in a state of limbo where they literally have kind of nowhere to turn to next. So their pro career is almost up in the air.

We provide the opportunity to bring along youth sports players, whether they are graduating or have some eligibility remaining to learn what it's like to play at a pro level. And it's a developmental position more than anything because these guys are going to learn what it's like the practice with pros travel with pros, playing in high tempo games and championship games and just getting used to what a pro career may look like for them beyond the CEBL if they choose to play somewhere in that traditional kind of wintertime season.
After a wonderful chat with Mike Morreale, I spoke with three of USports top basketball players Ozzy Omar, Xavier Ochu and Omar Shiddo to get their take.
Tell us a bit about what the day to day looked like pre-pandemic and has looked like lately during it.
My role for the Dalhousie Tigers is to be the best two-way player on the court. I do provide valuable offensive output while also guarding the other teams top player(s). My hustle and tenacity help my team on both ends of the floor and kind of act as a spark plug, leading by example and encouraging my teammates to do the same.

A typical day for me looks pretty much the same as it did pre-pandemic. I'm still working out everyday and I'm enrolled in 2 summer courses right now. The only difference that has affected me and almost every basketball player is not having consistent access to a court to put up shots and whatnot. Other than that, my days haven't been too different from what they were towards the beginning of March this year.
My role as a USports basketball player at Cape Breton University is to be an advocate for all of the talented players who decided to stay or come back and play in Canada.

A typical day for me includes an early morning strength and conditioning workout outdoors and then in the evening I get some basketball work in at either at an outdoor court or recently at a private indoor court.

I also run a sports media page called @Purejumpermedia on Instagram so I spend my days making edits and videos for USports men and women basketball players in the country.
Being on the Western Mustangs Basketball team and playing the guard position, a typical day is pretty busy. Whether that is playing on the court or off of it, a lot of background work goes into being a basketball player, such as working out and practice times including all the extra individual development along with being a student, which is taxing on its own.

As an experienced player on the team, I consider myself to be a leader. I pride myself on leading, not only by what I say but by example as well. Being one of the senior players on the team I use my experience and know-how to help the younger guys so that our team as a whole can develop and grow.

The pandemic has definitely changed my typical day a lot. It has really given me a chance to look internally about where I am as a player, as a person and where I can better myself and grow. This down time has allowed me to not only reflect, but plan for the now and near future exclusively. My days are pretty similar, maybe a tad less structured due to there being no real obligations in my day (no school, work). But I do still focus on strengthening my skills and mentality everyday.
Do you feel like you are at a disadvantage trying to play at the next level because you are playing post-secondary basketball in Canada? What needs to change to even the recruitment playing field between the NCAA and USports?
Yes, I'm at a disadvantage because USports doesn't get the same attention from the next level as the NCAA does.

Though this is slowly changing, it will be a long time before USports is near the level that the NCAA is at. There's not much that can be done about this due to the fact that the highest tiered athletes coming out of high school are going to play in the NCAA rather than USports. As time goes on, the skill and talent that's showcased in USports will increase as more and more people realize there is a lot of untapped potential in the Canadian basketball scene.
I like to think of myself as a a guy who looks at the glass half-full rather than half-empty. Of course, being in highschool you want to play at the highest level of basketball which is playing in NCAA Division 1, but unfortunately it hasn't work out for me.

Playing in USports and seeing the competition and growth, it's definitely a platform that can springboard me to my ultimate goal of playing high-level professional basketball. I think more media input and marketing mixed with full scholarships being offered in Ontario is a recipe for success. I also personally think it's something that's going to occur sooner rather than later.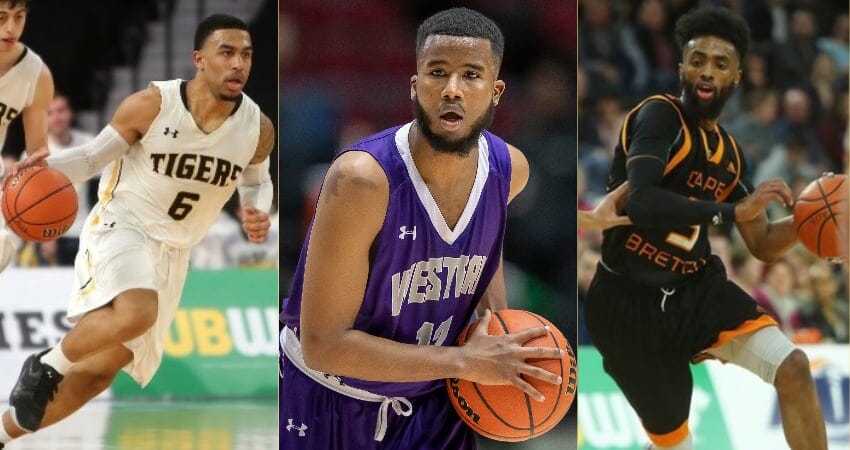 Where do each of you see yourselves in 5 years?
My main goal is to make basketball a career.

Playing in the CEBL this year is a major step forward towards that goal and will help me obtain the tools I need to play professionally after school. Ideally, in 5 years from now I'll be playing high level basketball somewhere in the world, whether it be overseas, g-league, etc.
My current basketball goals are to win an AUS championship this upcoming season, make it to Nationals and a run for a championship. I felt the last two seasons I was capable of winning the MVP for the AUS and becoming an All-Canadian, so those are also goals of mine.

5 years from now I see myself in the prime of my professional basketball career God-Willing.
My ultimate basketball goal is to make it to high level professional basketball, wherever that may be. I want to maximize my potential as a basketball player and make a living off of it. It's just about having the right blend of intangibles and fine tuning the tangibles to become the best player I can be.

My five year goal is to, hopefully, play professional basketball overseas.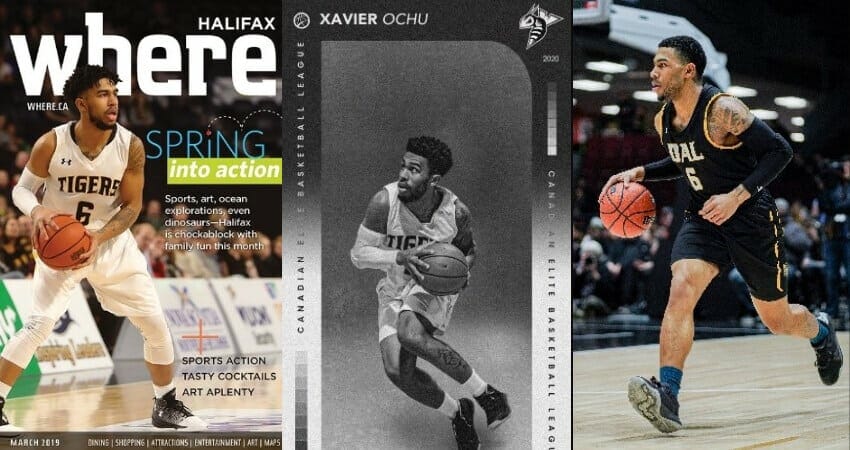 Congratulations on being drafted by last years Coach of the Year Jermaine Small of the Edmonton Stingers in the CEBL/USports lottery! Tell us what this opportunity means to you and how it felt to get drafted!
I've worked my entire life to get to this point so of course it is a huge blessing and I'm very grateful for the opportunity. I'm excited to get out and there and learn as much as I can from my teammates and do whatever I can to help my team get W's! I believe I deserve this and I owe it to those who believe in me to be the best version of myself on and off the court and continue to get better every single day.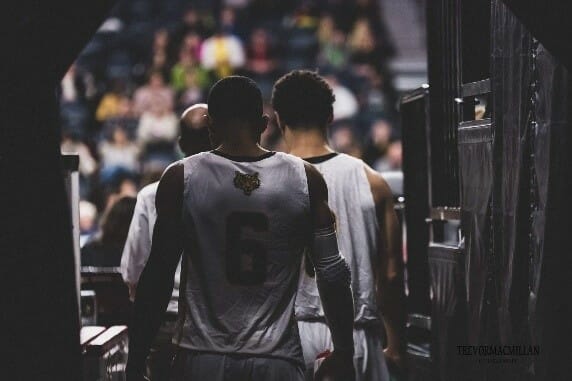 What kind of impact do you think the pandemic has had on university athletes trying to take that next step into the pro world and, do you see these affects as short-term of persisting into the long-term?
It simply comes down to "how bad do you want it".

The athletes who are hungry and dedicated will find a way around any obstacle preventing them from excelling in their sport and the athletes who aren't will settle for what's given to them. The severity of the impacts this pandemic will have on athletes will depend on what they do in response to the new norms of society.

Obviously, times have been difficult and not ideal however, you have to do whatever you can to make the best of it! Things can only get better from here on out if people continue to social distance and wear masks and things of that sort. The effects of this pandemic won't have any long-term impacts moving forward in my opinion.
I know the pandemic has left a lot of athletes out of gyms and that could be detrimental but I also see many getting creative and working with what they have. As far as basketball goes for me, I feel like it's a blessing in disguise because I have a lot more time now to really sharpen up my game and become the best player I can be.

However, the online university classes will be difficult for certain students because some are hands on learners and need to be in a classroom/lecture room setting to prosper.
The pandemic has had a profound impact on every single person, and its going to have a lasting impact. I think the pandemic isn't going away anytime soon. It's going to be the new norm for a lot of us. For university athletes, it's added stress due to the uncertainty of there being a 2020-2021 season. Some sports have already been cancelled.

Although the pandemic has caused a lot of uncertainty it's also allowed us to take a step back and focus on what really matters, which is our health and our families. These are two things that I think we take for granted in this fast-paced society.

Corona virus has slowed everything down but has given us a chance to really count our blessings. There have been unfortunate moments during this pandemic, but we will make it out stronger. University athletes need to keep in mind that the health and safety for us and our team mates is our priority.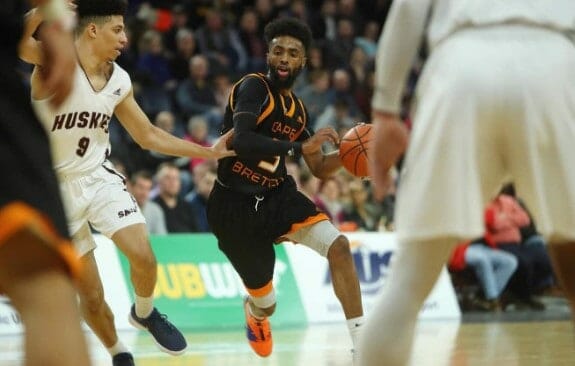 Ozzy, you have been very vocal on social media about the BLM movement taking place. What would you like to see Cape Breton and/or USports change to support the movement?
As many people know, the right changes need to be made and that the demands that black lives and POC are asking for needs to be met.

As far as Cape Breton and USports goes, I believe:

Black representation needs to increase in all areas whether it be coaching, faculty, staff, etc.
Outreach programs targeting black youth should also be considered for all sports but specifically predominantly black sports such as Basketball and Football.
Seminars, conferences, and classes about Canadian Black History and Indigienous History should increase throughout colleges and universities in Canada.

The list can go on but the best thing for everyone to do is continue to educate themselves so that real change can happen.
Ozzy, how do you feel about both the NBA and the CEBL returning in July?
I'm really looking forward to both returning because watching live basketball is needed for all basketball players and athletes. I'm looking forward to seeing a lot of friends playing in the CEBL and the tournament style is going to be fun to watch.

It's also really exciting that the NBA players are able to rep a message of their choice on the back of their jerseys instead of their last name. It's a good opportunity for the best league in the world to help spread awareness and goodness in the world.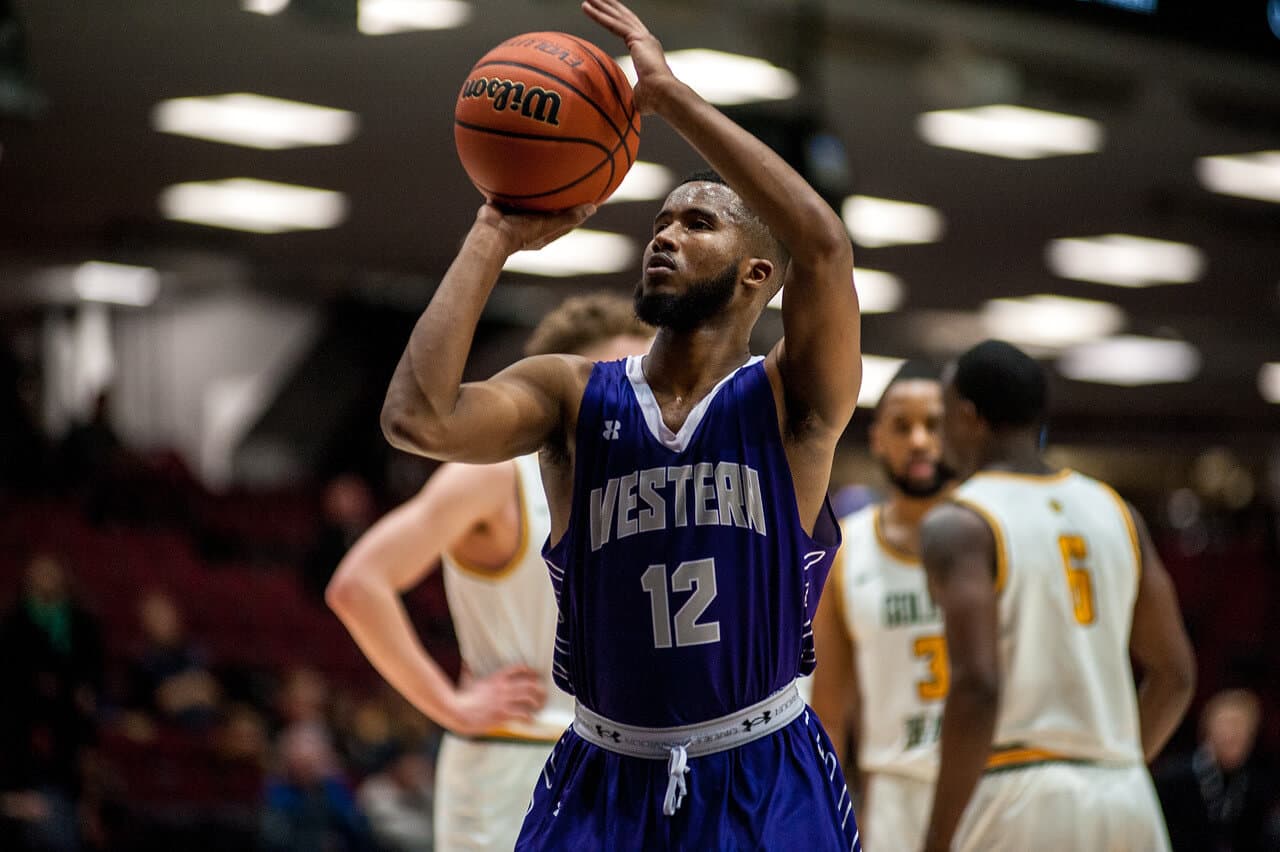 The CEBL in partnership with USports has created a platform to bridge the gap between the Canadian collegiate level and entry into the professional basketball world. Every year each CEBL team signs at least two USports players to their summer league, giving USports standouts the opportunity to go toe-to-toe with veteran basketball talent. How has this impacted the motivation of USports players?
I think it's a great thing to have that partnership to allow collegiate players the opportunity to get a glimpse of what it is to be a professional and then taking that knowledge and experience and applying it to their team and themselves.

Although motivation should already be there, it gives players that extra push and drive to hopefully, one day, be playing at that level.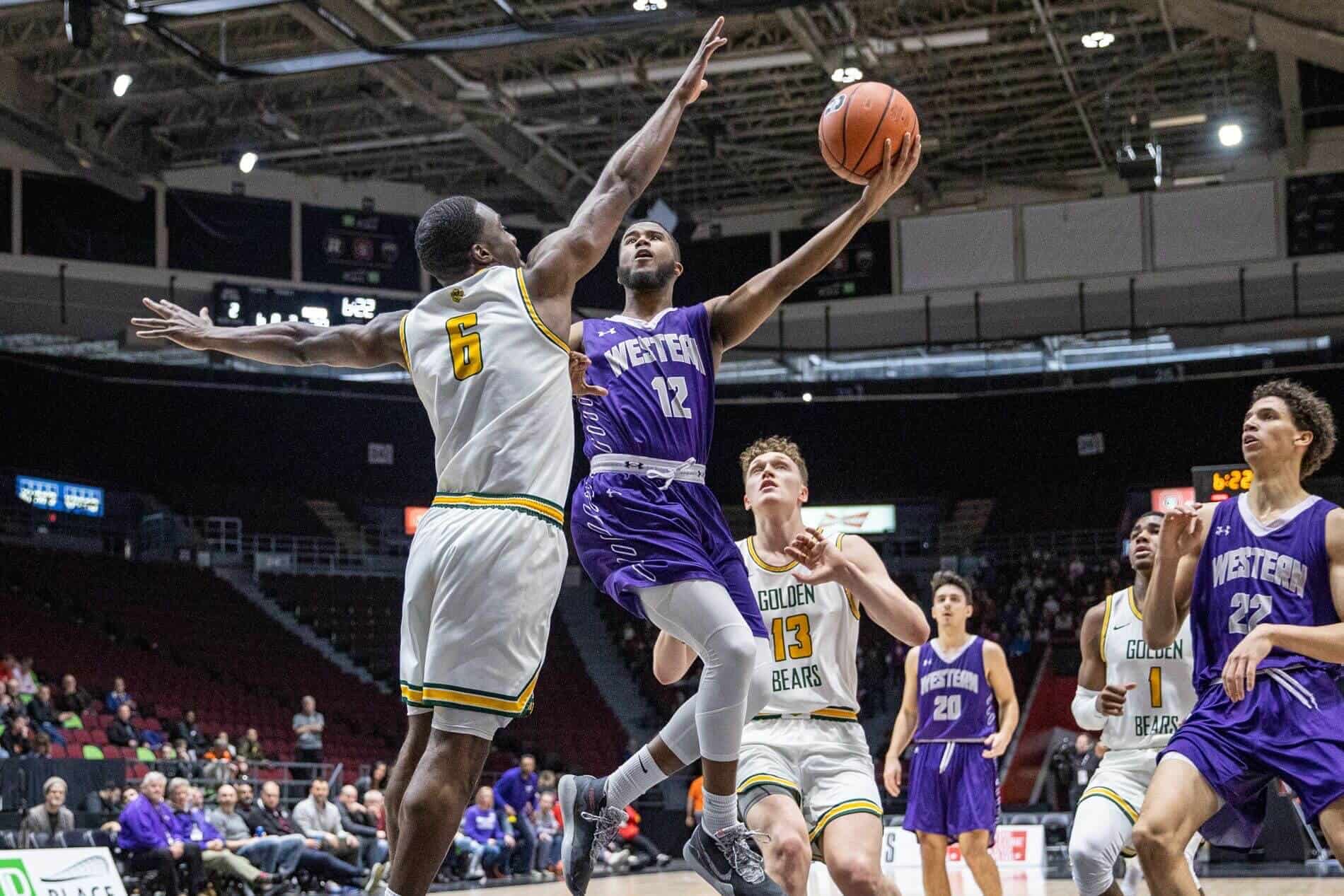 Though many of us are faced with great career uncertainty throughout this pandemic, university athletes may be some of the most affected in the basketball world. These students lack the resources that the pros have established and unlike the pros, have no idea if they will be returning to the court for the 2020-2021 season at all. Xavier Ochu is one of 21 lucky USports athletes to have been given the opportunity to compete against Canada's best, an opportunity that other highly promising USports basketball players like Ozzy and Omar could really benefit from. The CEBL is in unique partnership with USports to guarantee some of Canada's top talent a bridge into the professional world and provide training resources for these athletes during such uncertain times. Can't wait to see what the tournament style season using the unprecedented ELAN rules has in store for us this summer.