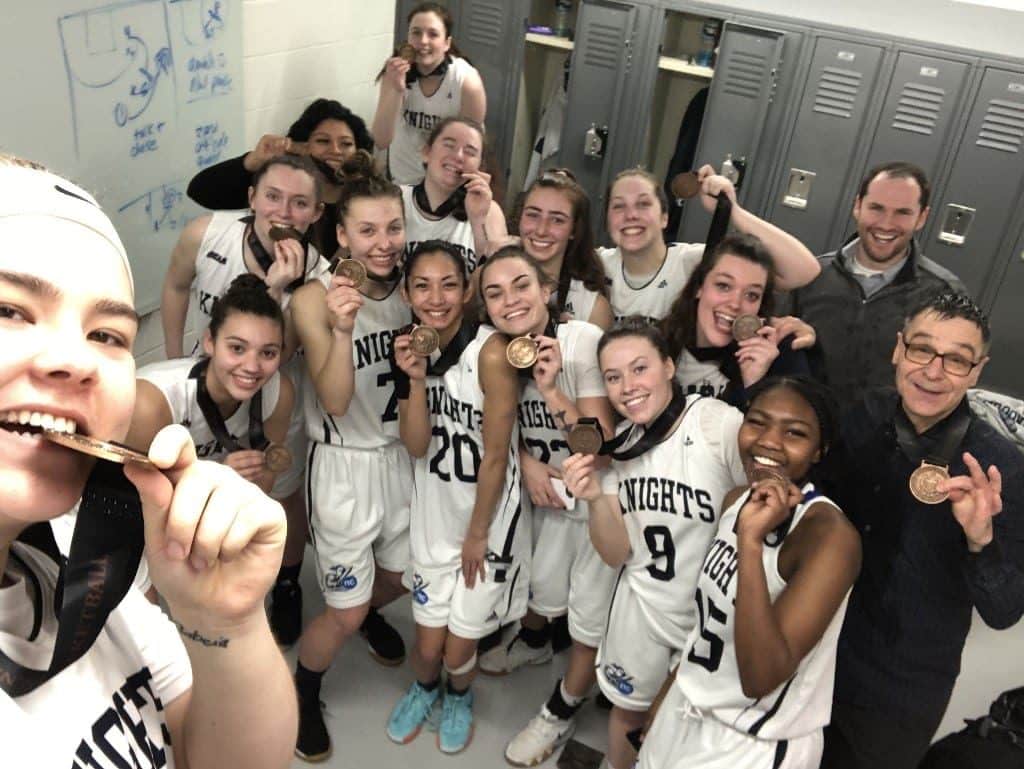 I study Sport Management at Niagara College and I play forward for the Women's Basketball team. The start of my season with the Niagara Knights and playing as a OCAA athlete was amazing. I never expected to have my college basketball team turn into a family. My teammates helped me over come an illness I could not face on my own. With their love and support I went from a bench warmer, to starting playoff games.
I made the decision to leave Durham College and head to Niagara. Moving schools was the best decision and hardest decision I have every had to make. I left my friends, my teachers and family back in Oshawa. But I had an incredible man guide me to a new life filled with a new family, opportunities and triumph.
Coach had the team's back
Our season started off slow and many believed we weren't going to make it past 6 wins all season. Coach Michael Beccaria refused to let us believe that. He had so much faith in our talent and he supported us from the day we signed with the team. He is the reason we never gave up and the reason I was so successful in transitioning between teams.
Coach had my back
I had a very rough year my first year and developed an eating disorder, but Michael didn't see that when he looked at me. When he looked at me, he saw potential, confidence, strength, and power, even when I didn't see it in myself.
My team also saw those characteristics in me and helped me thrive for excellence. They encouraged everyone to be their best self, even when they were struggling. Our team captains Hannah Baker and Bridget Atkinson are more than just captains. These athletes were backbone of our team and always put other before themselves. Selfless, strong, outgoing, confident, and beautiful inside and out. The two girls never gave up on us and went above and beyond to make sure our team worked as a unit.
A Team Effort
All of these people made our practices filled with competitive athletes who strive for one thing that we could accomplish as a team, a medal for our school. We were put into 6th place in our division and had to face George Brown for a spot at the OCAA's. The underdogs we were. Very few people had faith in us, but our team boarded the bus with a mission to win. Walking into the gym with our heads held high we knew we were going to be successful on the court.
It was a battle with George Brown and they put up a fight, but we wanted it more. We won 74-59.
OCAA Tournament
On our way to Kingston we prepared mentally and physically for the battles ahead. Our first game against Sheridan was close, especially because we had lost to them twice. However, we knew their game and we read them like a book. We defeated them 69-55. By winning this first game at provincials, it put us in the bronze medal game. Our second game was against Fanshawe, who had a record of 22-0. As hard as we fought, we lost to a team who shot 70% the whole game.
This was a shooting percentage they had only had once this year. Even though the loss upset us, it only fueled our strength to win the bronze even more. The next day, we woke up with a goal. We walked down the school hallways with confidence, and put on our jerseys with school pride. Our team members claimed, "this is our medal."
OCAA: Versus Durham
Durham had the lead for 5 minutes until we decided that we weren't going to play nice. We ended up winning 99-55 against Durham and our coach couldn't have been prouder. As soon as the buzzer went in the final quarter, our team filled the floor. Our coaches hugged and cried. ur parents cheered as we celebrated our victory. The medal ceremony went by so fast, but I will always remember the moment they put the medal around my neck. I looked at my dad in the crowd who was smiling ear to ear and feeling like I had finally redeemed myself from the past year of failing at basketball.
In Sum
My year at Niagara College and being apart of the Niagara Knights was amazing. I gained more than I thought I would and I look forward to next season where we will fight for another medal. We'll go hand in hand as the Knights and as a family.